Who
We
Are
PAS - Professional Aviation Solutions GmbH was founded in 2013 by Frankfurt based Skylink Holding Germany. Skylink Holding Germany was founded in 1996 by the Canadian Skylink Group of Companies to expand and manifest its activities in the German market. The Skylink Group specialises in tourism companies in various segments.
What
We
Do
PAS specializes in ad-hoc charter, private jets and helicopters for companies, governments, NGO´s, incentive agencies, tour operators and all those who need individual flight solutions.
Why
we
are
different
Empathy, transparency and trust in times of capitalised markets are values that we live in our company and in our relations with customers and business partners. This is why our portfolio includes numerous customers who have enjoyed working with us from the very beginning until today.
That's why you won't end up in a call center on our 24-hour hotline, but with a team member with many years of experience and the highest level of competence. So that you always feel comfortable!
Birte Kipke CEO
---
We
Are
Particularly
Proud
We are proud to know our customers as long-term business partners with whom we have been able to build up a cooperation characterized by trust and reliability through our high degree of professionalism and discretion. For us, certified quality according to ISO9001 is just as much a distinction as a matter of course.
---
Our
Partners
Our partners stand for the same high standards of quality and service as we do. And because we value working with the best of the best, we don't want to withhold our partners' great and inspiring achievements from you:
CORPORATE
RESORT
COLLECTION
The "Corporate Resort Collection" contains perfect and unique resorts for corporate events. Hand-picked, tested & event tested. With special locations for teambuilding, wellbeing, workshops and parties. Natural resorts with character, high standards and barefoot luxury. Every single resort captivates with that "certain something". They are optimally equipped for corporate events, teambuilding and corporate events of all kinds. Good accessibility, reliable transfer organisation and DMC know-how are guaranteed.
BEAUTY
For our numerous satisfied customers, Villa Beauté is the cosmetics studio of first choice in the Bergisch Gladbach, Cologne and Düsseldorf area. With a wide range of exclusive treatments, always the latest international beauty and wellness trends and special feel-good treatments. A wedding, a party or a special event is in your schedule? Or would you simply like to treat yourself?
RENT
A
RESORT
Whether for corporate or private events, RENT-A-RESORT is your partner for privatized hotels & resorts. We offer the possibility to organize tailor-made events, and we have the expertise of privatizing entire properties for your events. We give you the keys and make sure you can brand & run the resort as you wish!
LUXUS
HOTELS
We are your personal contact for your exclusive time-out far away from the hustle and bustle of everyday life. Relax on secluded beaches, discover foreign cultures and experience pulsating metropolises. Are you longing for a perfectly planned luxury trip, are you looking for an individually tailored honeymoon or are you longing for a relaxing detox trip? We fulfill your wishes and make them your unique moments.
INTERIOR
DESIGN
Discover the world of FINE ROOMS. The design studio from Berlin creates unique projects in the following areas: Architecture & Interior Design Consulting Interior Designer, Interior Design, Interior Furnishers, Interior Design and Interior Architects in Berlin Shop Design and Trade Fair Design.
Ecological
Footprint
Because
we
care
-
PAS
offers
climate-neutral
flying
Those who fly climate neutrally make a concrete and direct contribution to climate protection. We at PAS - Professional Aviation Solutions are proud to offer this option to our clients. Our partner for the CO2 compensation is the company ClimatePartner located in the south of Germany. Numerous considerable enterprises trust in the expertise of this professional offerer already.
All resulting CO2-Emissionen are computed and converted into recognized climatic protection strategies. The balance takes place by the investment into most different climatic protection projects. Think global, act local - at PAS, this credo is the basis for every action we take. "An ever faster advancing globalization is just as much an opportunity as the responsibility of all of us," says Birte Kipke, CEO at PAS. The three projects were therefore selected with great care: CO2 offsetting thus not only supports the global climate, but also makes an important contribution just where the aircraft broker himself is active. "I am aware that our aviation industry is heavily criticized, especially in the area of environmental protection. We live in a society that is massively characterized by high mobility and rapid technological progress. Global thinking and action, as well as cross-national or cross-continental exchange, often make this possible in the first place," says Birte Kipke. "We all move so much faster than we did 10 years ago. It remains to be seen whether this is good or bad. It is simply reality. But this is not a reason for resignation or even painting a dark picture, but the chance for each individual to do something. CO2 offsetting is only the logical and correct consequence of all the things we have been doing at PAS in the last years".
The
projects
Forest
Conservation
in
the
Kasigau
Wildlife
Corridor,
Kenya
This forest area is on the verge of massive deforestation and slash-and-burn. To protect the Kasigau Wildlife Corridor, rangers are being trained in the local population to guard and defend the area. In addition, there is a need for income opportunities for the local population in order to curb the overexploitation of nature. The project creates jobs in manufactories and small businesses, especially for women, and thus also makes a major contribution to gender equality.
In Environmental Finance's 8th Voluntary Carbon Market Ranking 2017, this project was named the best climate protection project.
---
Planting
trees
in
Germany
Germany is one of the most densely wooded countries in the EU. But here, too, forests are clearly feeling the effects of climate change: forest fires, drought and heat weaken widespread tree species such as spruce, which with their shallow roots do not reach deeper, water-rich layers of the earth. Mixed forests, for example with oaks and pines, are more resilient to climate change. They tolerate heat and drought better and the risk of forest fires is lower. Therefore, PAS in co-operation with ClimatePartner supports the afforestation and the change of German forests.
---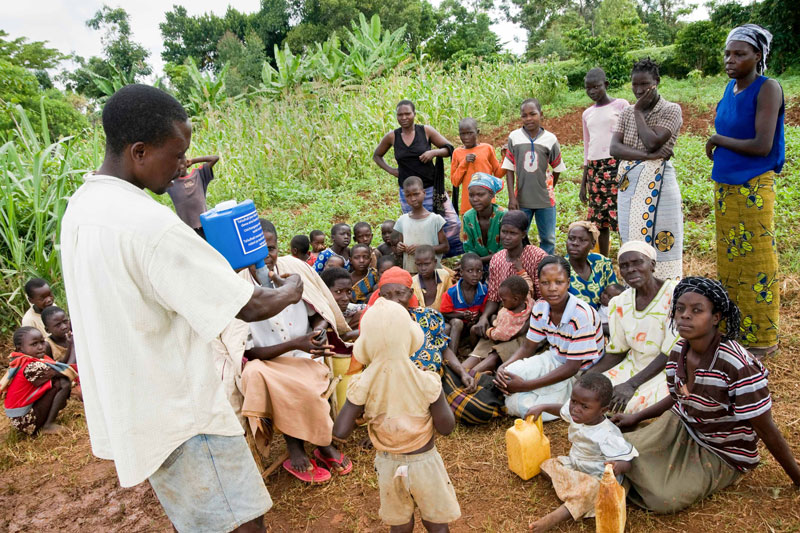 Simple
and
free
of
charge:
drinking
water
for
Kenya
This project prepares drinking water and supplies families in rural Kenya with it. Contaminated water and lack of sanitation in sub-Saharan Africa lead to life-threatening diseases and 315,000 premature deaths per year. This makes lack of drinking water the second most frequent cause of death. To prevent this, many people boil their water with coal or wood on an open fire. This produces smoke, mostly inside closed rooms, which in turn causes dangerous respiratory diseases. The treated water from this project is drinkable for 72 hours, saves the population the money for firewood and the time for the often protracted wood procurement and avoids CO2 and other pollutants.