Flying Sustainably with PASflights
As a company that is aware of its responsibilities, we at PASflights have made sustainability and sustainable flying one of the central goals in our corporate philosophy. We know that every contribution counts to make our planet livable for future generations. For this reason, we are actively and increasingly committed to working with our customers and partners to reduce the ecological footprint on this planet by flying sustainably. With our partner ClimatePartner, we at PASflights offer the opportunity to make a CO₂ offset and are thus following the example of numerous well-known companies that are also taking on this significant task.
Would you like to rent a Boeing or charter an Airbus? We will make you an individual offer at any time and tailor the entire trip to your wishes. With our Commercial Jet Charters, we reliably take care of the entire organization and every detail. Whether 20 or 480 passengers, the Commercial Jets offer you a cost-effective way to organize group travel. And, of course, with the latest technology.
Why sustainable flying is so important
"Increasingly rapid globalization is as much an opportunity as it is a responsibility for all of us." – Birte Kipke, CEO PASflights
On request, we ensure that our customers fly sustainably by determining the CO₂ emissions generated by their flight and converting them into an offset contribution. This then supports recognized climate protection projects certified according to international standards. For us, flying sustainably means taking action.For us, flying sustainably means taking action. Your contribution to CO2 offsetting goes to changing climate protection projects such as forest protection in Pará, Brazil, solar energy in Omaheke, Namibia, and wind energy in Maliya, India.  Feel free to learn more about our environmental footprint and about us as a company.
We are aware that the airline industry in particular is heavily criticized when it comes to climate protection. Nevertheless, flexible mobility is a central issue in today's globalized society and individual flight solutions are more in demand than ever. This is precisely where we at PASflights see an opportunity. Sustainable flying brings with it great potential to make a decisive difference.
"The CO₂ offset is just the logical and right consequence of all the things we have already been doing for many years." – Birte Kipke, CEO at PASflights.
The forest conservation in Pará, Brazil
Açaí, more than just a superfood for the Amazonians
It is a special and unique ecosystem, the "Várzea" in Pará on the Brazilian Amazon estuary. The island of Marajó is crossed by waterways, for centuries the landscape has been shaped by small farmers. As a transport artery, the Amazon favours agriculture and livestock breeding – which in turn results in more and more deforested areas.
On more than 97,000 hectares, the project protects the forest and prohibits commercial deforestation. It creates alternative sources of income for residential families, for example by trading the açaí fruit. This berry is not only popular in Brazil, but is also increasingly demanded as superfood in industrialized countries. Because the project promotes development in one of the poorest regions in northeastern Brazil, it is certified with the Verified Carbon Standard and the Social Carbon Standard.
How does forest protection help fight global warming?
Forests are not only among the planet's most important carbon reservoirs. They also are home to an enormous diversity of species and are the livelihood for all people. However, global forest areas have declined sharply in recent decades due to increasing settlement, agricultural use, illegal logging and mining.
Forest protection projects ensure that forests are preserved in the long term and that the protection of forests is given a higher value than their deforestation. Together with the local population, project participants protect the area from negative influences. To allow for this the projects create alternative sources of income and educational opportunities. Depending on the project region, forests store varying amounts of carbon per hectare. Particularly high amounts of carbon are stored in the vegetation and soil of tropical swamp forests, primary rainforests or mangroves.
The solar energy in Omaheke, Namibia
Clean solar energy for Namibia
More than sixty percent of Namibia's energy is imported from the South African energy pool, which is mainly supplied by fossil-fuel power plants. To reduce this dependence, the carbon offset project in Omaheke near the town of Gobabis in Namibia uses the sun as a climate-friendly energy source: The solar plants constructed in 2017 include 18,560 PV solar modules and have a total capacity of 12.064 MW. As a result, approximately 26.1 GWh of clean electricity is fed into the Namibian power grid annually. This sustainable power generation saves an average of about 26,200 tonnes of CO2 emissions per year.
In addition to reducing emissions and improving Namibia's energy self-sufficiency, the project is also having a positive impact on the local labor market. Since construction began, 30 jobs have been created, at least eight of which will be dedicated to the long-term operation and maintenance of the plant.
How does solar energy help fight global warming?
Since energy from solar panels is created without burning fossil fuels, it is considered emission-free. The growth of renewable energy production is essential to prevent global warming and secure energy supplies for the future. The amount of emissions saved by a solar energy project is calculated using the baseline method: how much CO2 would be released by generating the same amount of energy using standard energy production methods for the region?
The Wind energy in Maliya, India
Promoting clean wind energy and community development
The project activity is a 40 MW wind power project, promoted by Orange Agar Wind Power Private Limited (OAWPPL). The project consists of 20 Wind Turbine Generators (WTGs) of 2.0 MW each and is located at Tehsil Maliya Miyana, District Morbi in the State of Gujarat, India. The purpose of the project activity is to generate clean electricity with utilization of wind energy. The wind farm has been in continuous operation since its comissioning in March 2017.
Besides contributing to climate change mitigation and increasing the share of renewable wind energy in the grid, the project contributes to sustainable local development. Social benefits include job creation and support of the local economy through improved electricity supply. Besides, the local team supports local tree planting activities and applies extensive monitoring to avoid any negative ecological effects of the project, for instance on bird populations in the surrounding.
How does wind energy help fight global warming?
Since wind energy is created without burning fossil fuels, it is considered emission-free. The growth of renewable energy production is essential to limiting global warming and securing energy supplies for the future. The amount of emissions saved by a wind power project is calculated using the baseline method: how much CO2 would be released by generating the same amount of energy using standard energy production methods for the region?
DO YOU HAVE ANY QUESTIONS? WE ARE HERE FOR YOU - BY MAIL,
CONTACT FORM OR BY PHONE!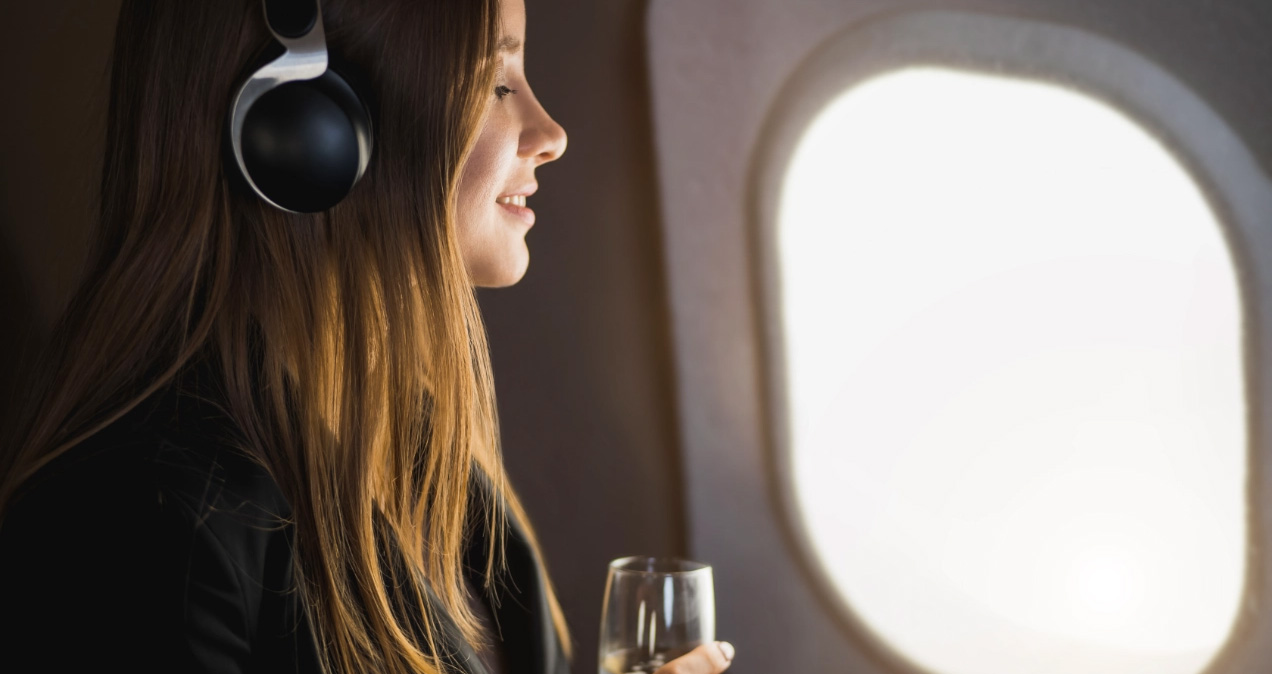 Fly more than sustainably with PASflights: Book a rail ticket and take the next step
We have set our priorities and look forward to tackling them together with you. From helicopters to turboprops to private jets or wide-bodied aircraft, choosing PASflights for your flight means you can fly sustainably by working with us to provide CO₂ offsets. In this way, we not only reliably get you to your destination, but also commit ourselves to a common mission. In addition, PASflights offers to book rail tickets to get to events or to the departure point.
So we not only support you with sustainable flights for groups or private concerns, but also plan the ideal train journey for your guests and you. This way, you already save CO₂ emissions during the journey and the way from the plane to your event and protect the environment in this way.
If you have any further questions or suggestions regarding sustainable flying, please contact us by phone or via our inquiry form.
We look forward to hearing from you!